Welcome to Camp Sherrye on the Coosa
Whether or not you are a water sports enthusiast, you are sure to appreciate your stay at Camp Sherrye on the Coosa – a brand new campground and RV park located directly on the Coosa River in Wetumpka, Alabama. There is nothing like level, manicured pull-thru, back-in or pull-in campsites that offer reliable full hookups and modern utility pedestals.

Our campsites are large and carefully graded, designed to easily accommodate everything from small campers to the biggest of big rig RVs – including travel trailers, fifth wheel campers, and motorhomes. Our back-in and pull-in sites even include concrete patios, with many of our sites right on the river!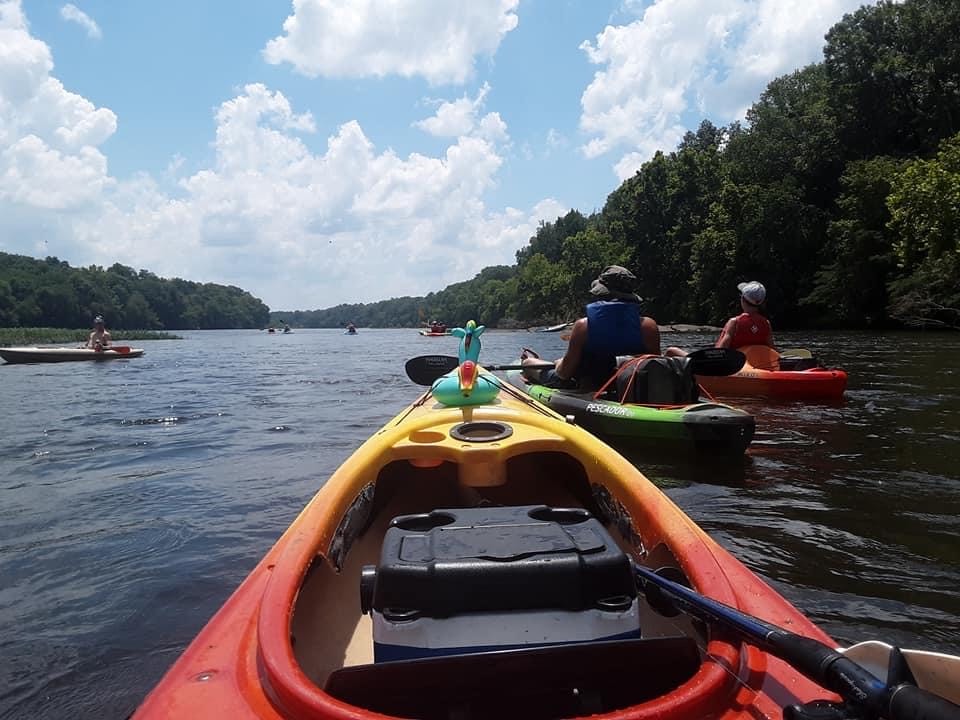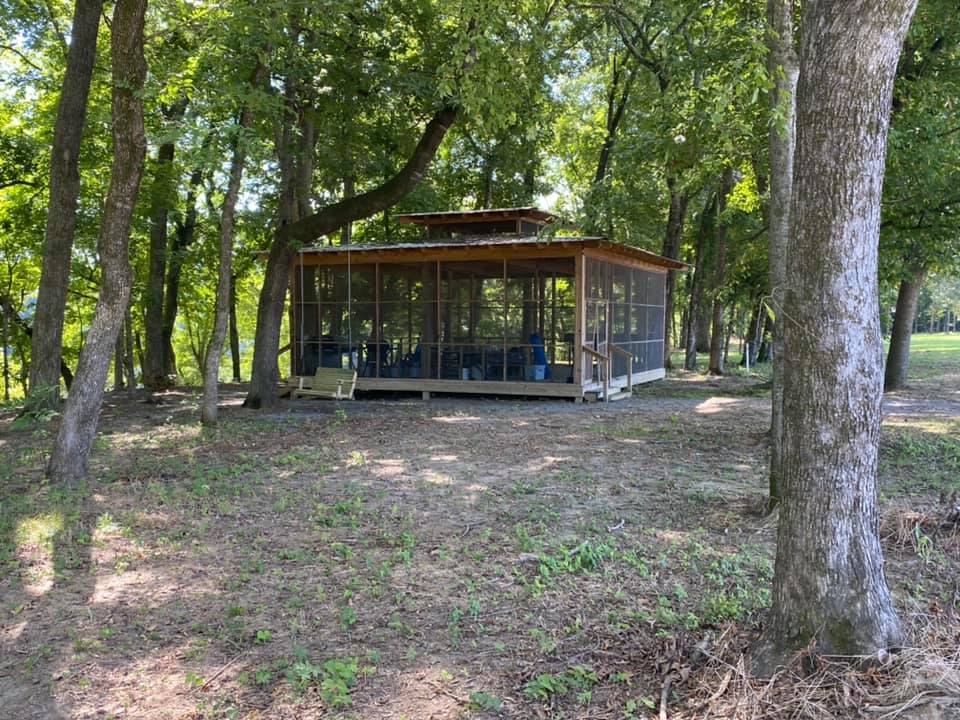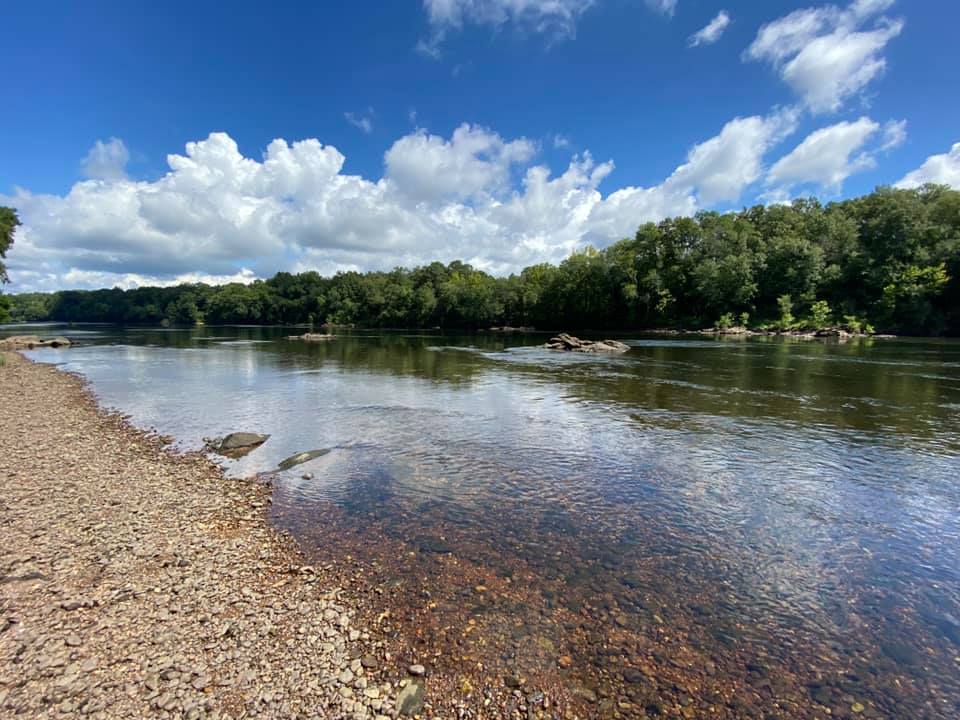 If you are here to kayak, canoe, or tube on the Coosa, you will love our park, including its easy-to-access kayak ramp and a sand bar where you can relax next to our screened pavilion. The name Coosa comes from the Creek word for "rumbling waters", and you will surely have an enjoyable paddling experience. Did you know that the rock islands in the river are said to be created by the nearby impact of a giant meteorite? Explore one of the world's natural treasures up-close!

We are open all year, and we encourage you to make your reservations today. Click here to reserve your space online now!
Full Hookup Campsites with Water, Sewer & Electric
Pull-Thru Sites
Waterfront Sites
Concrete Patios and Grassy Lawn Areas
New Bathhouse with Restrooms and Showers
Screened Pavilion
Kayak Ramp
Dog Park
Weekly Stay and Military Discounts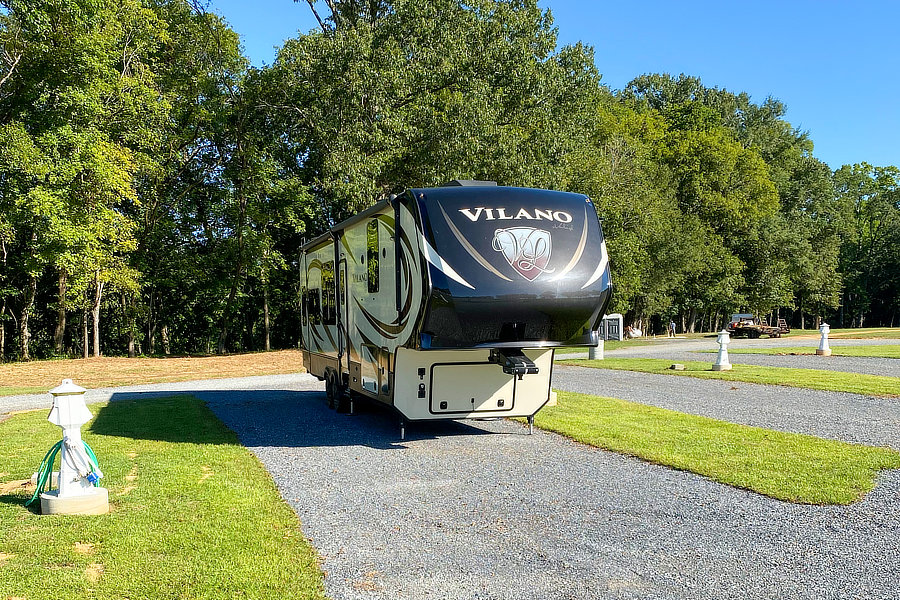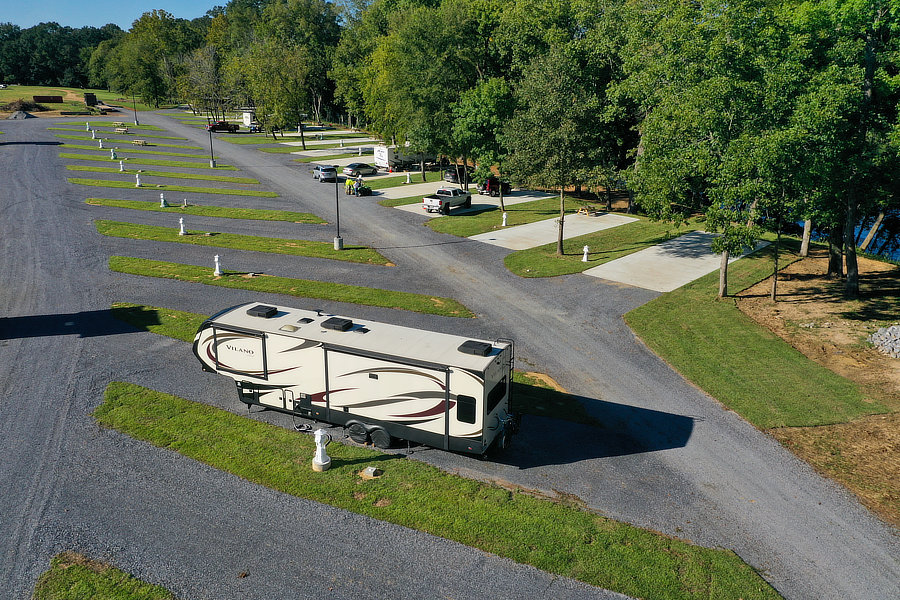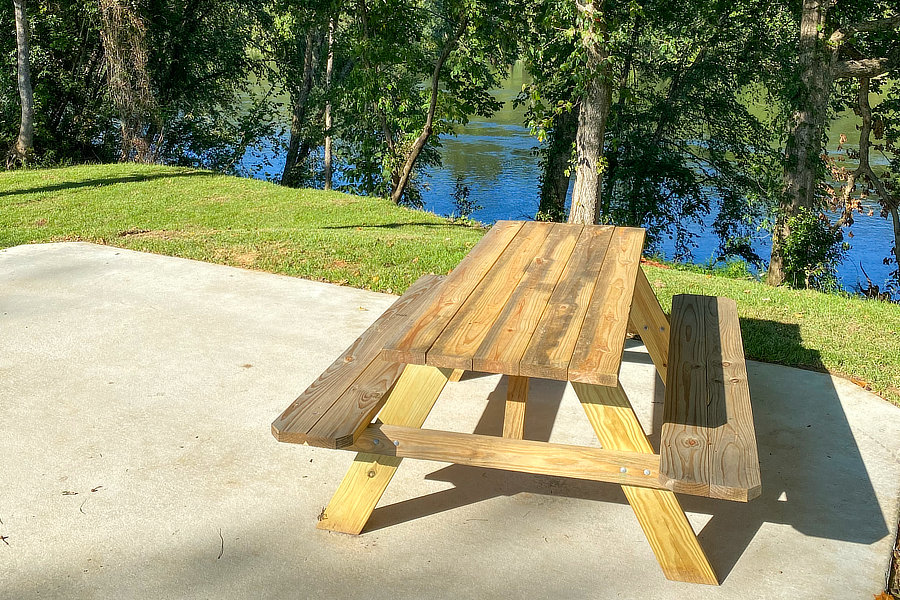 Campsites Rates & Reservations
Pull-Thru and Back-In Gravel Sites
$45Per Night
Weekly Stay Special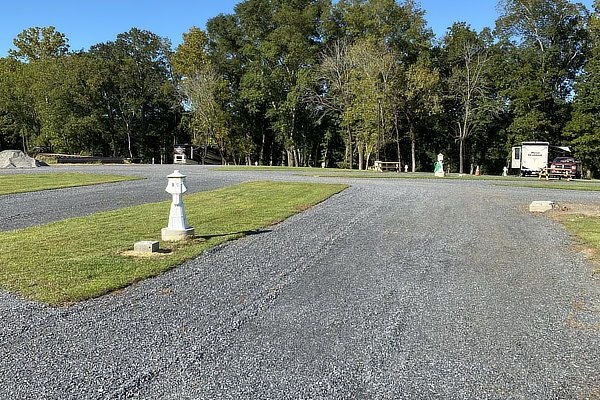 Back-In Concrete Pad Sites
$55Per Night
Weekly Stay Special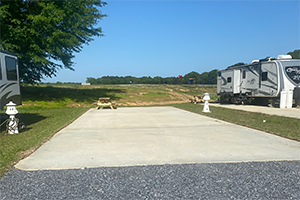 Back-In and Pull-Thru Concrete Pad Waterfront Sites
$65Per Night
Weekly Stay Special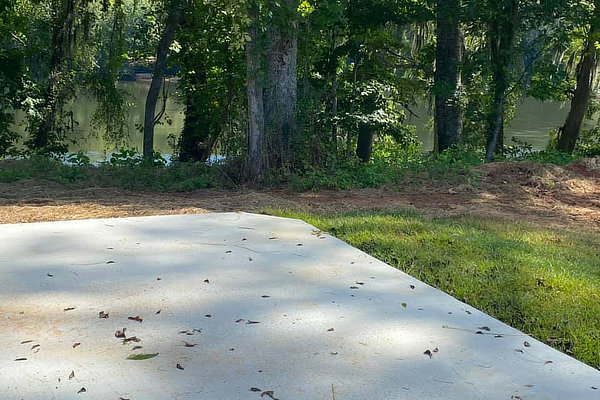 Cancellation Policy for Campsites:
2+ WEEKS: Non refundable $25 cancellation fee OR full refund issued in camp credit.
1+ WEEK: 50% of reservation refunded and 50% of reservation forfeited.
LESS THAN 1 WEEK: Full reservation forfeited.
Site Map and Camping Rules
Rules and Regulations: Guest is subject to and agrees to comply with all "Park Rules", a copy of which is attached hereto and incorporated herein by reference. Camp Sherrye, LLC may modify the Park Rules from time to time at its discretion. Tenant hereby acknowledges receipt of the current Park Rules. Tenant also agrees and acknowledges that failure to comply with all Park Rules will constitute a material default of this Agreement and will be cause for immediate eviction and removal from the RV Park.
QUIET TIME: 10:00 PM / 7:00 AM – please be considerate of others. No loud music at any time.
CHECK-IN TIME: 2:00 PM.
CHECK-OUT TIME: 11:00 AM.
SPEED LIMIT: Please observe a speed limit of no more than 7 mph.
SEWER: Sewer connection - a positive sewer seal at both ends of sewer hose is required. Alabama law requires that a sewer hose must be fastened using a connector.
CHILDREN: We want the children to be safe and have a good time, but always under the watchful eyes of parent/guardian. Please use good judgment if you decide to leave your children at the park when you are gone. We are not responsible for their safety or welfare. You are liable for their behavior.
RIVER: Swimming is not recommended. Patrons swim at their own risk. River levels change rapidly, and without warning.
TRASH: Dumpster located in the park is for personal trash only. All garbage must be bagged and tied, boxes broken down. DO NOT leave trash outside by your RV. You are responsible for taking your trash to the dumpster provided in the park. Cleanliness of the park is important to us.
SITES: Sites are to be kept clean and orderly, as determined by management. Washing vehicles in the park is allowed but may be restricted if excessive; keeping your RV clean and in good repair is required.
NO FIREWORKS ALLOWED. NO OPEN FIREARMS DISPLAYED.
PARKING: Two vehicles per RV space are allowed. Please park in front of your RV out of the main drives.
CLOTHES LINES ARE NOT ALLOWED. ELECTRIC SPACE HEATERS ARE NOT ALLOWED. NO CHEATER BOXES OR PIGTAILS ALLOWED. Camp Sherrye is not responsible for any electrical components on RV's.
CONDUCT: Disorderly conduct, drunkenness, illegal drugs, obscene language, obnoxious, disruptive or vulgar behavior will not be tolerated. They will be reason for immediate eviction without refund.
DRUGS: Illegal drugs of any form are prohibited on the property of Camp Sherrye. Person(s) caught in violation of this rule are subject to immediate eviction without a refund. Person (s) knowing of any illegal activity are encouraged to notify the management immediately. Any information reported will be strictly confidential.
PETS: Pets are permitted at the Camp Sherrye, no more than 2 pets per space, however only in strict compliance with the following terms and conditions:

All pets must be kept on a leash or in a cage or crate at all times during which the pet is outside of your RV. Notwithstanding the foregoing, cats that are licensed, vaccinated and have been spayed or neutered are permitted outside of your RV without a leash as long as they do not become a nuisance to other Guests. Pets must be supervised at all times. Please be advised that pets found unsupervised in the RV Park may be impounded.
Pets are not permitted on other Guest's RV sites.
All Guests are required to clean up after their pet(s). Camp Sherrye reserves the right to assess a $25 per occurrence fee if you fail to clean up after your pet(s).
Barking, excessive noise or other pet behavior that disturbs other Guests is not permitted. If Camp Sherrye becomes aware of such behavior, management will notify you and request that you take action to correct the problem behavior. If such behavior continues after the second notice you receive from management, you will be required to remove the pet from the RV Park within 24 hours after notice from management.
Pets are not permitted to be tied or chained to trees or any other structure within the RV Park.
You certify that your pet has not previously bitten or caused other injury to any person. If at any time your pet bites or otherwise injures any person or other pet at the RV Park, you will be required to remove the pet from the RV Park immediately and the pet will no longer be permitted on the RV Park premises.
If your pet displays threatening or aggressive behavior which Camp Sherrye, in its sole discretion, deems to be dangerous or problematic, you agree you will promptly leave the Park upon request from Park with no recourse against Park and no claim for reimbursement or compensation from Park.
You agree to indemnify, defend and hold harmless the RV Park Property Owner, Camp Sherrye, the Park, and their principals, members, shareholders, partners, directors, managers and employees from and against and any and all claims, damages, losses, liabilities, costs and expenses (including reasonable attorneys' fees) arising out of or in connection with your pet residing or being located at the RV Park, including, without limitation, the claims of any third parties related to death, bodily injury or damage to persons or property caused by your pet.
In its sole discretion, Camp Sherrye can limit or restrict which pets are permitted at the RV Park. Aggressive breeds of dogs are not permitted at the RV Park.
Notwithstanding the forgoing, service dogs of any breed belonging to a Guest are permitted at the RV Park, subject to proper documentation.
Failure to strictly comply with these Pet rules and regulations will constitute default of this Agreement. Also, your failure to disclose and identify existence of your pets to management will constitute default of Agreement and Camp Sherrye will be entitled to all remedies set forth herein.

No guest, invitee, or visitor of a Guest may camp or sleep outside in their cars.
No more than one RV and two vehicles per rental space are allowed.
No inoperable or unlicensed vehicles will be allowed to remain in the RV Park. Guests shall not use or allow the use of their respective rental space for performance of major mechanical or long-term repairs.
Park and its management will not accept mail delivered to the RV Park for Guests or RV occupants. Guests must obtain a post office box or have their mail sent "general delivery" to the post office.
Campfires are allowed in portable, covered fire pits only, and not on the grass. Please do not put ashes in any trash receptacle.
Guest is not allowed to construct or place any outside storage units on the premises.
Background and credit checks may be conducted on all monthly guests.
THESE RULES ARE FOR HEALTH, CLEANLINESS, LEGALITY AND WELFARE OF ALL. MANAGEMENT RESERVES THE RIGHT TO EVICT OR REFUSE SERVICE TO ANY PERSON OR PERSONS WHO BREAK OR DISREGARD ANY RULES WITHOUT REFUND. MANAGEMENT RESERVES THE RIGHT TO REFUSE ANYONE. MANAGEMENT RESERVES THE RIGHT TO MAKE CHANGES TO THE RULES, REGULATIONS AND FEES WHEN NECESSARY.
Please use the interactive map to find your directions to Camp Sherry on the Coosa!